Furgeson Elementary School: A donation was made in April 2002, that enabled every 6th grade student to attend science camp for one week. The program provided a wonderful opportunity for students to learn and grow. Students enjoyed hiking, face painting, playing with animals and a carnival during this week-long expedition.
"It was a very memorable experience I know I will never forget and I thank you for helping me to participate." - A sixth grade student
Bar-Ilan University:Since 1980, The Moskowitz Foundation has been a long time supporter of Bar-Ilan University, which has grown to become one of Israel's largest universities, compromising a modern 70-acre campus in Ramat Gan, outside Tel Aviv, with five regional colleges across Israel.
Over 6,300 courses are taught in the Faculties of social sciences and humanities, Jewish studies and law, and in the inter-disciplinary graduate studies center, by 1,500 academic faculty to more than 29,500 students. Bar-Ilan University boasts 50,000 alumni in all walks of Israeli life, and throughout the world. The Moskowitz Foundation supports higher education, and programs designed to help young people throughout the world.
The Moskowitz Foundation endowed "The Moskowitz Land of Israel" Chair, a department at Bar-Ilan University dedicated to further study of the Land and biblical heritage of Israel.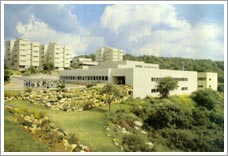 Bar-Ilan University
Long Beach City College: The Foundation makes regular donations to help enable local students to continue to achieve excellence in higher education. The Irving Moskowitz Foundation Scholarship Fund awards scholarship grants for students from Hawaiian Gardens enrolled in Long Beach City College.
Mayor's Youth Walk of Achievement Scholarship Program: The Moskowitz Foundation provides an annual grant for scholarships to students. The Mayor's Scholarship promotes youth education, and the desire to succeed.
United Community Group: The Irving I. Moskowitz Foundation funds the United Community Group which provides educational classes for the residents of Hawaiian Gardens and neighboring communities. This non-profit group offers the following day and evening classes at no charge to the students: English as a Second Language, U.S. Citizenship classes, GED preparation (Spanish), and Cake Decorating. Free Childcare is included. All students are encouraged to pursue future opportunities for higher education and advancement possibilities in their current fields of employment. The Moskowitz Foundation is proud to participate with the City of Hawaiian Gardens and The ABC School District in enabling the United Community Group to offer these services.
Our mission in providing these classes is to empower people to better themselves, their children, and their communities. - Fimia Morales, Executive Director of United Community Group
The College of Judea & Samaria: The Moskowitz Foundation is building and equipping the School of Mass Communication (CJS) at the College of Judea & Samaria. The new school is intended to meet the growing demand for people in areas of technology, modern communications and media presentations.
The College of Judea & Samaria in Ariel is the largest and fastest-growing public college in Israel. Its 8,500 students represent the full spectrum of Israelis, i.e., secular and observant, Jew and Arab, new immigrant and veteran, who come to study at the Ariel campus from all parts of the country. Led by Moshe Arens, Israel's former defense minister, the College has established a broad base of academic and research programs. The Moskowitz Foundation has supported the College of Judea & Samaria since its inception.

The College of Judea & Samaria
MOSKOWITZ FOUNDATION DONATES $500,000 FOR NEW HAWAIIAN GARDENS LIBRARY: Hawaiian Gardens' quest for a new library took a giant step forward with the presentation of $500,000 from the Irving I. Moskowitz Foundation at an adjourned City Council meeting. Moskowitz said "Today is the start of a new exciting project. Today we begin work on what will be the jewel in Hawaiian Gardens - the future library." Upon presenting the check, he added that together with the city, they were making Hawaiian Gardens a role model of what can be accomplished in a small town to enrich the lives of every single citizen.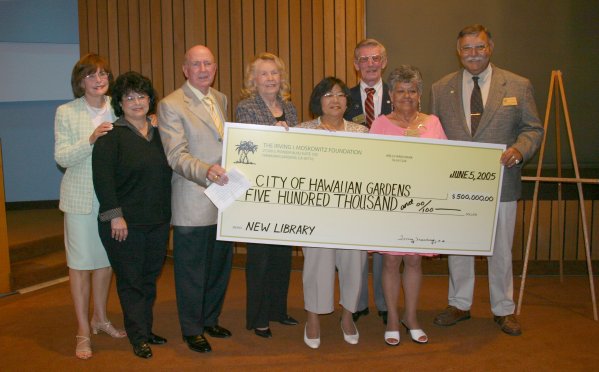 Citizenship and English Classes: In addition to providing food to over 1,000 families weekly, the Food Bank also offers citizenship preparatory classes in two yearly sessions. The winter class of 2005 is pictured with their diplomas. Fourteen new graduates are now all U.S. citizens.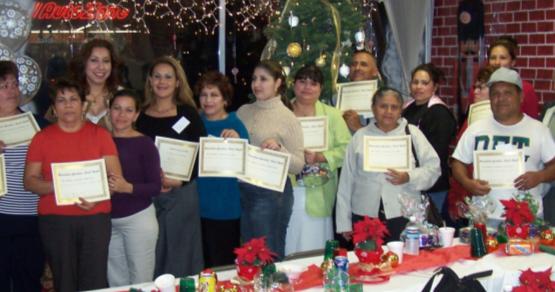 The Winter Class with Diplomas
Hawaiian Gardens Elementary School: In 2012 A grant of $100,000 from the Irving Moskowitz Foundation was used to renovate the Elementary Schools& Computer Laboratory for student use with new Mac computers. Each classroom teacher was provided with a new teaching station and new technology school.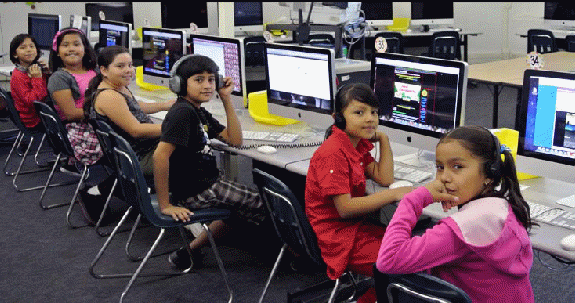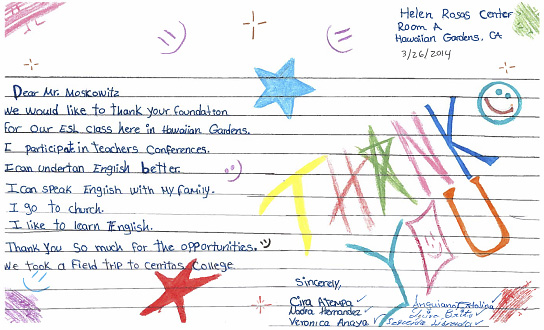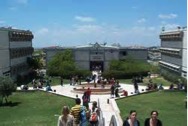 Weizmann Institute of Science: Since 2006, the Irving I. Moskowitz Foundation has been a supporter of the Weizmann Institute of Science. The Weizmann Institute in Rehovet, Israel, is one of the world's top-ranking multidisciplinary research institutions. With the guiding mission of "science for the benefit of humanity," Weizmann's 3,800-strong scientific community engages in research addressing crucial problems in medicine and health, energy, technology, agriculture and the environment. The Irving I. Moskowitz Foundation's support of the Weizmann Institute includes:
The Irving and Cherna Moskowitz Center for Nano and Bio-Nano Imaging: focused on enhancing the Institute's imaging capacities.
The Irving I. Moskowitz New Scientist Fund: supports new scientist returning to the institute after completing their post-doctoral studies abroad.
Laser Science Research: supports renowed scientist Prof. Victor Malka, a new addition to the Institute's Physics Department whose work holds great promise for human health, security, and other areas.